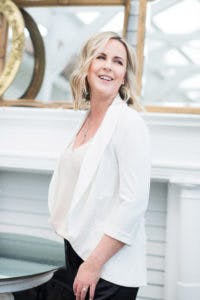 Erin isn't just an Award-Winning Realtor, she also knows a thing or two about moving.  Originally from Oakville, Ontario, Erin brought her real estate experience and expertise when she followed her heart to the Fraser Valley in 2016.  Prior to that, she had been successfully navigating her clients through the challenges of the Toronto Real Estate Market for several years. Erin is proud to be a part of the #BestOfficeEver at Royal LePage Wolstencroft in Langley.
Before becoming a Real Estate Professional, Erin was a small business owner.  As a true entrepreneur with a background in the landscaping industry, she's no stranger to long hours and hard work, and she's been known to literally get her hands dirty for her clients. If you dig a little deeper, you'll also learn that she's bilingual – she even has a BA in French – and she spent 5 years living in Switzerland.
Erin's clients, friends and family will tell you she's honest above all else, patient and incredibly hard working. She's also known to be a no-nonsense "boss lady" and an outside-the-box thinker with an arguably dry sense of humour. She fancies herself a bit of a Real Estate Ninja, and she's the Realtor you want in your corner. Erin is passionate about Real Estate, she lives, breathes and personally invests in it.
Erin, her husband Scott and their dog Cali, call Walnut Grove home.  Her other passions include travel, skiing, coffee, chocolate, Netflix, and delicious food.  When she's not hustling homes and perusing the MLS, she can usually be found hiking the trails around Derby Reach or popping in and out of the local shops and restaurants in Fort Langley.  If you spot her out and about, she'd love for you to stop and say hello!